DIY Furnace Repair Tips
Furnace not producing heat during the winter months can be daunting. Moreover, at least 25% of all heating service calls can easily be avoided with simple fixes that cost little or nothing. Find out easy steps that might help you repair your furnace and get it back to work.
Step 1: Check Thermostat
Before you assume you have a furnace problem, first check the thermostat to make sure it's communicating with the furnace. Most thermostats have multiple operating positions.
Check the temperature setting.
Compare the temperature setting to the room temperature. Set the thermostat five degrees higher than the room temperature and see if the furnace kicks on.
In programmable units, program settings can be bypassed altogether. Simply punch in the temperature you want with the up/down control and then press the hold button. Further, this adjustment will switch the heater on. Obviously, furnace will start if the thermostat was not programmed correctly.
Further, check the date and time settings and make necessary corrections.
Thermostat must set in "Heat" mode and fan in "Auto" mode.
Gently pull the thermostat of the wall and check if it has batteries inside. Indeed, dead batteries will not let your furnace start:) Replace batteries if needed.
Trace the thermostat wires back to the heating system and check for damages. Obviously, any recent alternations may cause damage to low voltage wiring inside walls. Hence, if you had any remodeling recently, check the wires. If you find a bend or crack in one of the thin wires, splice the line back together and wrap it with electrical tape.
Step 2: Change HVAC filters
Dirty filters can cause furnace to stop working. Dust and dirt restrict airflow. Heat exchanger will overheated and your heater will short-cycle. Replace air filter to let more air through the fan. Clogged filter will cause soot buildup on heat exchanger, reducing efficiency of the furnace and shortening its lifespan. In many cases neglected air filter may trigger maintenance service calls. Moreover, such damages might permanently damage gas furnace heater or service visit of professional HVAC technician.
You should change filters every 3 months. Ensure arrow on filter side points along airflow. We recommend to replace filters monthly if you have pets and small children. If you want to be worry free, you should consider getting a maintenance agreement. Visit this page to learn more about service agreements offered by EMCO Tech Heating and Cooling. 
Step 3: Check shutoff switches and breakers
Emergency shut-off will look like regular light switch next to heating system. All properly installed furnaces must have a manual shut-off. Check the circuit breaker or fuse box. Ensure all panels of your heating system are tightly closed. Push-in safety switch located under front cover will trip the furnace if not secured.
Step 4: Make sure the chimney exhaust flue is not blocked
Often, birds build their nest in chimney exhaust flue. Turn the furnace off. Dismantle exhaust duct to check for debris. Check chimney cleanout as well. Call the professional chimney cleaning company if you unsure how to do it.
Step 5: Look for blocked or leaky air ducts restricting airflow
If your furnace is running but some rooms in your home are not getting warm, check if all vent covers are open. Check all visible ductwork for gaps or cracks between sections. Seal any gaps in air ducts with metal duct tape. Follow this link to learn about our air duct repair and cleaning services.
Step 6: Flush condensate drain lines
High-efficiency gas furnaces drain many gallons of condensation water per day while in heating cycle. Safety switch will shut down heating system if drain line gets clogged. Locate condensate line cleanout and make sure it drains by filling it with a little water. Call furnace repair technicians if you unsure how to do it, or notice water leaking from your heater.
Step 7: Clear away leaves, dirt, and trash from outdoor electric heat pump, intake, and exhaust vents.
If your furnace vents on the outside of your house, make sure nothing is blocking the intake or exhaust.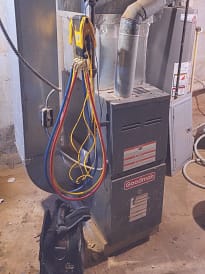 Those pipes should have clean screen mesh covers. If ice is clogging one of the pipes, you have a bigger problem somewhere in the system.
Call EMCO Tech now and have professional technician service HVAC system. 215-366-1001 for fast affordable HVAC Service in Philadelphia area
EMCO Tech Heating & Cooling provides maintenance, repair, and replacement on different types of ducted heaters:
Check our Preseason Heater Tune-Up Offers. Check EMCO Tech Heating and Cooling Google reviews and Contact us with confidence if you need help. Check out our Willow Grove furnace page.
Learn about possible reasons your heater is blowing cold air here.