During these unprecedented times, you're not only taking precautions to protect yourself out in the world — you're looking for ways to ensure you and your family's safety in your own residence. As of late, this concern has homeowners wondering about their indoor air quality and HVAC system's degree of impact on their wellbeing.
Ensuring proper ventilation can help reduce airborne contaminants indoors, yes, but solely increasing ventilation is not enough to protect individuals from exposure to the virus that causes COVID-19. However, when done in tandem with CDC-recommended best practices such as social distancing, thorough hand washing, and frequent surface disinfection, increasing ventilation can be part of your family's protection plan.
How Can I Increase Outdoor Air Ventilation?
Here are a few ways you can use outdoor air to increase ventilation in your home: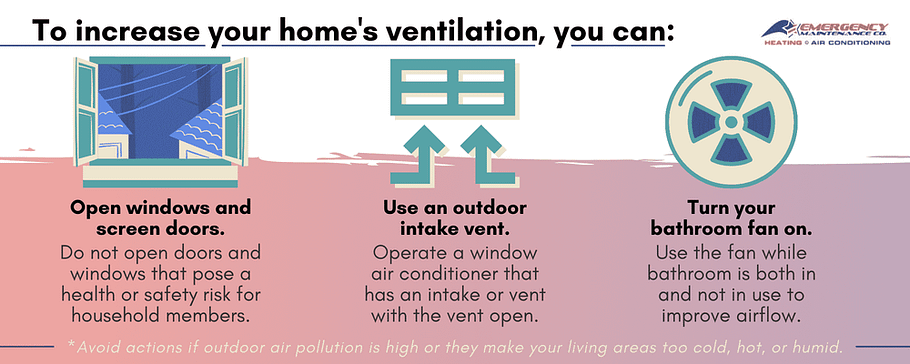 Natural Ventilation
Even with a window cracked or a door left ajar, natural ventilation may be limited if both indoor and outdoor temperatures are similar, and there is little wind. To enhance natural ventilation:
Within reason (considering physical risk or those with asthma), open multiple windows and doors.
Utilize cross-ventilation by opening windows or doors at the opposite end of your home, keeping internal doors open, as well.
Open the home's highest and lowest windows simultaneously.
For double-hung windows, opening the top sash of one window and the bottom of another encourages ventilation. For single windows, partially opening the top and bottom sash can improve ventilation, as well.
Use indoor fans (including window, box, or tower varieties) combined with open doors and windows. Fans can either face toward the window and blow air out or away from the window to blow air in. Consider using multiple fans with varying directional orientations for additional ventilation.
What About My HVAC System?
Since running your HVAC system filters air as it circulates, tending to it (while practicing recommended safety guidelines) can be vital to your safety efforts. When it comes to your HVAC system, here's what you should keep in mind:
Run the system fan continuously to filter air. Most systems can be set to run the fan, regardless if air is being conditioned.
Consider upgrading your filter to a higher-efficiency model or the highest-rated one your system fan and filter slot accommodates.
For further information about indoor air quality or air duct system services, contact us today!