Heating, Ventilation & Air Conditioning Energy Consumption
Here are some facts:
Over 50% of home energy costs are related to heating and cooling equipment. Hot water heating energy consumption for average home is around 20%. ¾ of overall home energy costs are related to only three appliances.
Most of the homeowners set their thermostats at 72 degrees in Winter. Less than a third of us set indoor temperature at 68, and very few have an arctic setting of 66 or below
Half of the homeowners don't know what they pay for electricity, gas (or oil) each month, while only 15% don't care how much they consume per month.
HVAC Energy Saving Tips:
Smart Thermostat or even simple programmable thermostat can save at least 8% on your energy costs yearly.
High efficiency or tankless water heater can reduce gas consumption for heating domestic hot water by 35% per year.
Replacing your furnace filter every 2 months can increase its efficiency by up to 50%.
Performing annual maintenance on your air conditioner and heater can save up to 30% on fan energy per month. Learn more about our service agreement options.
Take a look at the chart below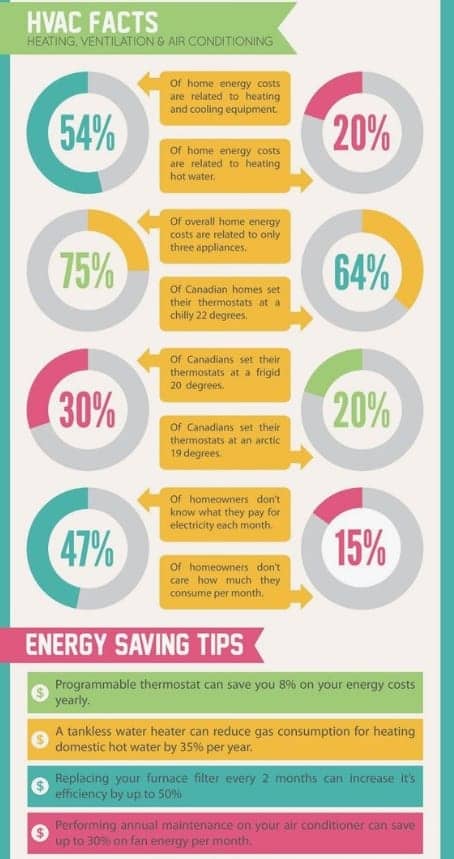 More info from US Department of Energy: Residential Program Guide » Heating, Ventilation, and Air Conditioning (HVAC) Check out energy efficiency related blog articles below
Ready for a vacation? Your home should be too! Careful planning can not only help protect your home and your […]

---

It's hot and getting hotter. According to the National Oceanic and Atmospheric Administration, the forecast for August through October calls […]

---

Imagine sweltering in the flaming Philadelphia heat, desperately seeking refuge in your own home. Well, worry no more! In this […]

---
We would like your input about HVAC Energy Saving