Are you looking for local Air Conditioning Contractors in Horsham, 19044? EMCO Tech Heating and Cooling should be your choice for Ultimate AC Service Solutions in the Horsham PA area. Our expert technicians are dedicated to providing top-notch air conditioning repair services to residents in zip codes 19040 and 19044. With years of experience under our belts, we specialize in diagnosing and fixing all types of cooling issues, ensuring that your home stays comfortable during those hot summer months. Don't let a faulty air conditioner ruin your day; trust our team for all your emergency cooling repair needs.
Cooling Service Companies of Horsham, 19040
At our air conditioning repair service in Horsham PA, we understand the importance of energy efficiency. That's why we offer energy efficient HVAC systems designed to save you money on your energy bills while keeping your home cool and comfortable. As an authorized Carrier residential HVAC dealer, we provide our customers with the latest in cooling technology ensuring that your system runs at peak performance. Our technicians are trained to install, maintain, and repair Carrier systems, guaranteeing that you receive the best service possible.
Emergency AC repair by EMCO Tech Heating and Cooling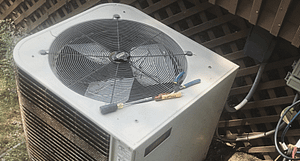 We know that emergencies can happen at any time, which is why we offer emergency cooling service and installation in the Horsham PA area. Our team of skilled technicians is always ready to respond to your call, ensuring that your air conditioning unit is up and running as quickly as possible. Whether it's a simple repair or a complete system replacement, we have the expertise and equipment to handle any cooling emergency. You can rely on EMCO Tech Heating and Cooling contractors in 19040 and 19044 for any HVAC service and installation related concerns. Our technicians undergo extensive training to perform any work related to central air conditioning systems, as well as gas boilers and oil fueled equipment.
Air Conditioning Services in Horsham, PA
When it comes to AC repair near 19040, EMCO Tech Heating and Cooling takes pride in being your trusted choice. Our team of HVAC engineers at our Willow Grove office is dedicated to providing comfortable indoor environment. Specifically, through air conditioning services in Horsham and the surrounding areas. We spare no expenses to ensure that we have qualified personnel in the HVAC/R technical field and a skilled office crew to support our operations. With our expertise and commitment to customer satisfaction, you can rely on us to quickly and efficiently solve any problem related to your indoor air comfort. Discover our exceptional AC services in Horsham today, and experience the difference we can make for you.
19040 and 19044 – Jewels of Montgomery County
Horsham is a home rule municipality in Montgomery County, Pennsylvania. It is located entirely within Horsham Township and is home to the Horsham Air Guard Station at the former site of Naval Air Station Joint Reserve Base Willow Grove. According to Niche, Horsham is one of the best places to live in Pennsylvania. It offers residents a sparse suburban feel and most residents own their homes. In Horsham there are a lot of bars, restaurants, coffee shops, and parks. Naturally, at EMCO Tech we are honored to be an emergency cooling service and installation contractor of Montgomery and Bucks Counties for nearly 20 years. Willow Grove office of EMCO Tech Heating and Cooling is located within the nearest proximity many Montgomery County areas. Specifically, Horsham, Maple Glen, Hatboro, Dresher, Ambler, Warrington, Warminster Heights, and others.
AC installation in the Horsham, PA area
In addition to our cooling repair services, we also offer professional AC installation for residents in the Horsham PA area. Moreover, our team will work with you to determine the best air conditioning system for your home, taking into account factors such as size, energy efficiency, and budget. Once we've found the perfect system for your needs, our technicians will expertly install it, ensuring that your home stays cool and comfortable all summer long. Trust our air conditioning repair service in Horsham PA for all your cooling needs, from emergency repairs to new installations.
Heating, Ventilation, and Air Conditioning Repair and Installation Carrier Dealer near you.
EMCO Tech is a factory authorized dealer of residential air conditioning and heating systems in Horsham, PA and surrounding areas. Additionally, we provide installation, maintenance and repair services for HVAC systems. If you need any help with your central AC and Heating equipment, you can contact us for assistance. Besides, you can visit our Carrier dealer page and book your next air conditioning service appointment online here
You might find these pages interesting:
EMCO Tech 

Heating

 & 

Cooling

– Central Air Conditioning Repair Services Since 2006.