The Benefits of a Central Humidifier
Does your skin feel dry during the cold months when your heater is running? Do your wood floors make creaking sounds during the winter?
Dry skin and creaking floors often reveal dry indoor air or low indoor humidity. Most people tend to discount these common signs, yet dry air can also lead to other problems, like respiratory infections or the flu.
As David Rosenberg, MD, a pulmonologist, notes, "Not only does breathing air below recommended relative humidity levels irritate respiratory passages but doing so contributes to a heightened risk of contracting COVID-19 and influenza" (source).
Have you ever wondered why you breathe easier by a lake or ocean? Moist air soothes irritated airways.
Installing a humidifier in your home or office is one of the best ways to ensure healthy lungs and skin during winter. Installed in the ductwork of your existing HVAC system, a central humidifier increases the humidity in your home, easing potential symptoms of dry air and making the indoor air much more comfortable.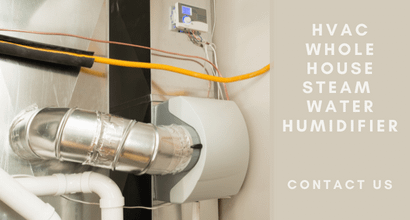 Central humidifiers come in various models, sizes, and installation styles, which impact costs. Nevertheless, the use of a humidifier is similar to all models. A central air humidifier is integrated into a forced-air heating system to humidify air as its heated. Unlike portable humidifiers requiring refills, a central humidifier receives water automatically from household plumbing.
EMCO Tech Heating & Cooling is a leading HVAC company serving the Philadelphia area. We install central humidifiers in homes or offices to ensure appropriate indoor humidity levels. Please contact us today if you're interested in learning more about our central humidifiers.
And read below to learn more about the two most common humidifier types in the average home or office: the steam humidifier and the flow-through humidifier (evaporative humidifier).
Steam-Based Humidifiers
Whether you're battling dryness in your home or office or want to create a comfortable environment, the steam humidifier can help you achieve humid indoor air.
A steam humidifier uses an internal humidistat to detect moisture in the air. When moisture levels drop, the humidifier heats water in a reservoir, converting it to steam. Your furnace slowly disperses the steam throughout your home. Humidity begins to increase to a noticeable degree.
A steam humidifier for HVAC applications is an easy-to-use device perfect for humidifying your ventilation system. An electric current heats the water to the boiling point, producing a warm, steamy mist that keeps your home or office well-hydrated, particularly during extended dry winters.
A steam humidifier also features a built-in timer; you can set it to operate when needed. A steam humidifier also has a large tank that requires less frequent refills. Steam-based models also tend to offer easier humidity level control than other models. The risk of mold is low, energy usage is efficient, and steam humidifiers require little maintenance, so the cost of ownership is low.
Although furnace heat is required for a steam humidifier, humid air feels warmer, so you may feel more comfortable at lower temperatures when the humidifier operates.
Our preffered choice for a steam humidifier is AprilAire 800 Whole-House Steam Humidifier.
Water-Based Humidifiers
A flow-through humidifier uses an evaporator pad and warm air to humidify the air. The humidifier is mounted onto a furnace and requires fresh water to flow through the system. The water gradually drains away. A steam humidifier offers many advantages, but some may prefer the benefits of a flow-through model:
Flow-through humidifiers are reliable and rarely fail
The absence of a central reservoir is potentially more hygienic than steam humidifiers
Flow-through humidifiers usually consume less electricity than steam humidifiers
A flow-through humidifier is often the best choice for most customers, depending on your home's size and heating needs.
Our favourite option for a Water-Based Home Humidifier is AprilAire Model 600 Large Bypass Evaporative Humidifier
Chose The Right Humidification Device for Your Central Air Conditioning & Heating System
No matter what type of humidifier you choose, sound installation and maintenance are essential to ensure long-term performance and value for your money.
Without adequate humidification, home or office environments that are air-conditioned during the summer and heated in the winter may suffer from low humidity and dry indoor air. The professionals at EMCO Tech team install and maintain all types of humidifier systems. Call us now to discuss the best humidifying option for your needs!