Winter is coming, and with it comes the threat of cold, harsh weather. Often, when winter weather hits, we retreat to the warmth and coziness of our homes. But is your home's HVAC system ready for the added strain of this bitter winter season?
Our service technicians are here to help you get ready for winter. Whether you need a winter tune-up or the installation of a new heating system, our team can provide you with quality options at an affordable price. We offer multiple maintenance programs designed to meet the needs of our customers.
Here are a few things to prepare your HVAC system for our coldest season: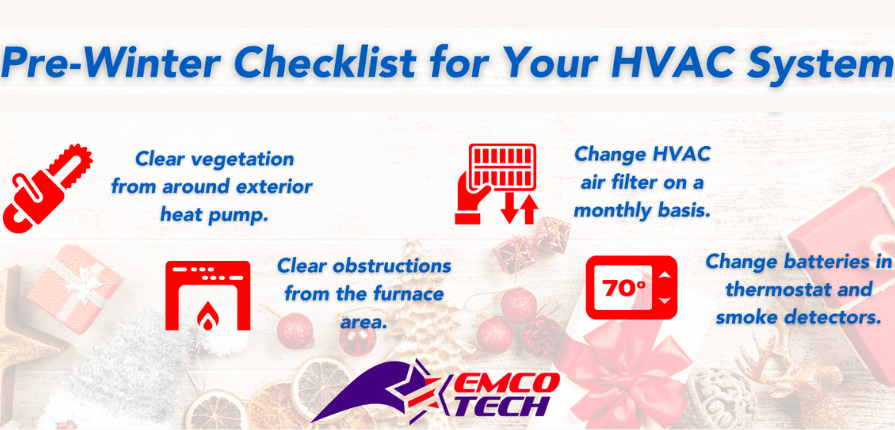 Outdoor AC or Heat Pump unit Preparation
It is best to start your HVAC winter preparations outside rather than inside. Take advantage of autumn warm spells to clear vegetation away from your heat pump if your system has one. This allows air to flow freely around the unit, preventing the possibility of overheating. If you have an AC condenser, clear any debris from around it and be sure to place a cover over the unit. This will offer protection against snow, sleet, and ice during the winter months when it is not in use.
Indoor HVAC equipment Preparation
Furnace Filter Replacement
First and foremost, check your HVAC system's air filter. A clogged filter can lower your heater's efficiency and damage it over time. A compromised air filter also allows unwanted contaminants into your home, degrading interior air quality. You should be prepared to change your air filter monthly to maintain optimal HVAC system performance.
Remove Obstructions Around Your Furnace
It is important your furnace has sufficient space around it. Many times, heaters are located in basements or small storage areas where homeowners tend to store unused items. This usually leads to an assortment of unused decorative items and whatever else you don't use, eventually being stacked around an HVAC unit. It is crucial to keep the area around your furnace clear of obstructions. You should allow several feet of clear space on all sides of the unit. This ensures your furnace can operate safely during the season when it is used the most.
Change Batteries in Your Thermostat and Detectors
When preparing your HVAC system for extended use during winter, make sure to change the batteries in your thermostat, fire detectors, and carbon monoxide detectors. You certainly don't want to be looking for batteries in the middle of a cold night if your thermostat stops working. By also changing your fire detector and carbon monoxide detectors, you bring added safety to your home and loved ones.
Performing a Pre-Winter Test of Your HVAC System
You should run a test of your heating system before the start of winter. After performing the outdoor and indoor preparations mentioned above, check your pilot light to verify that it is lit. Turn your thermostat to a temperature that will force the heater to run. At that point, slowly go around your home examining vents to see if they are blowing warm air into the house. If you discover a vent that is not operating and is in the open position, you may have an issue with your HVAC system.
When to Seek Professional Help
Ideally, you should hire a professional to perform an annual inspection of your HVAC system once a year. It would be best to have this done before the winter months. An HVAC technician should thoroughly examine all components of your heating system to ensure it is operating correctly.
During their visit, the technician should check the following parts of your unit:
Burner assembly
Ignition system
Heat exchanger
Gas system on gas-powered furnaces
Blower
Electrical components on newer units
Once a thorough inspection of the HVAC system has been completed, the tech should give you a comprehensive analysis of the unit, potential problems, and things to look out for. If anything needs repair, they should also bring this to your attention.
Your home is your sanctuary, and your home's heating system is vital to you and your loved ones' comfort and safety. Don't be caught in the cold this winter season! Be sure to prepare your HVAC system for the upcoming season.
We are a leading provider of HVAC services in Bucks County, Montgomery County, Philadelphia, as well as Delaware, and Chester Counties PA, and the surrounding areas. Working in heating and cooling trade since 2006, our technicians have built a solid reputation for exceptional customer service and quality work. For more information about our heating services, contact us today!