Alternative Heat Sources to Gas Furnaces for Winter Heating
Furnaces are one of the most common methods of heating homes. However, it's not wise to assume that using one is the optimal or safest option for heating during winter. In fact, there are various other credible and suitable alternatives. Today, we'll take a look at a few of the most popular alternative heating options and explore what you should know about each.
Heat Pumps
A heat pump is an even better alternative for homes that do not have a natural gas line. It's a two-in-one system as it offers both heating and cooling. It functions similarly to general air conditioning systems that circulate refrigerant, except the only difference is that they can reverse their operation and generate heat instead. While energy-efficient, they can, at times, struggle — especially during freezing temperatures.
Geothermal Heat Pumps
Unlike a heat pump that collects heat from the outside air, geothermal heat pumps rely on consistent underground temperatures to efficiently heat a home during the colder months. Depending on the home's location, the temperature underground is between 45°F and 75°F throughout the year — often warmer than winter surface temperatures. The higher-degree underground temperature could make geothermal pumps more efficient than air-source heat pumps that must first warm up frigid outside air.
The installation process involves drilling a hole into the ground or placing heat-transferring coils into a body of water closeby. However, the U.S. Department of Energy (DOE) claims that a geothermal system will cover the cost difference over 5-10 years. Additionally, geothermal equipment's lifespan averages out around 25 years.
Radiant Heaters
A radiant heater is a name for any system that heats by raising the temperature of the objects in the room rather than generating heated air through vents. Most of the systems use boilers to heat water. The hot water moves to radiators and baseboard heaters.
Under-Floor Heating
Radiant heat doesn't always require solar power. Electric or boiler-powered under-floor radiant heat systems can help cut back energy costs by eliminating the heat loss that occurs when hot air passes through ductwork. According to Scientific American, under-floor systems are 15% more efficient than your standard boiler-powered radiator. This option may also prove beneficial to individuals with allergies as it does not blow air through the home as a forced-air system does. Under-floor heating system installation requires removing, and perhaps replacing, any floor coverings, rendering it an excellent option for new construction homes or residences undergoing remodels.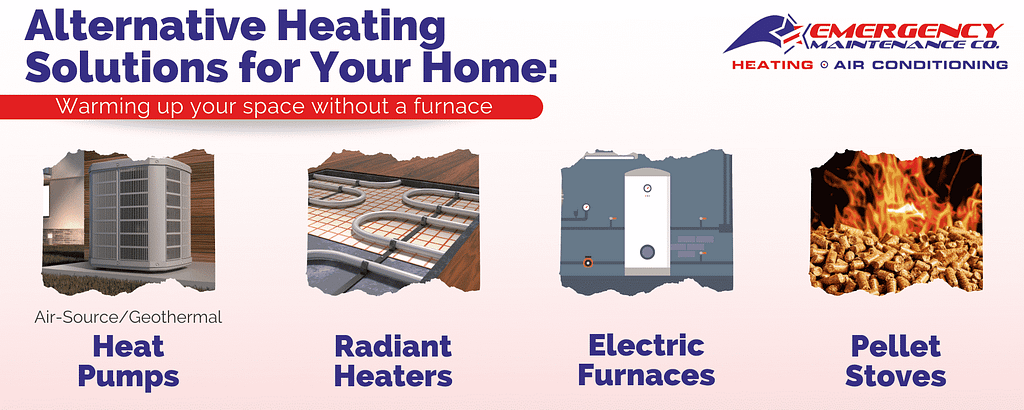 Electric Furnaces
An electric furnace is a good option for those who do not have a natural gas line. It requires fewer installation costs and is highly effective. However, the running cost can be expensive, and it can't meet the heating caliber of a gas furnace.
Pellet Stoves
Once the appliance of choice for heating a home, wood stoves are making something of a comeback thanks to high-efficiency, clean-burning pellet stoves. These units can be powerful enough to heat an entire home! The pellets are typically made of a wood-based compound that includes organic materials such as corn husks or nutshells. According to the recent research, pellet stoves are the cleanest solid fuel heating option on the market. Moreover, they are easier to install than traditional fireplaces or wood-burning stoves. However, to ensure low emissions of CO and fulfill subsidy or tax incentive requirements, it is necessary to increase the ratio between secondary and total air mass flow rate. In addition, the combustion air supply system and its electronic control must be properly designed.
Which Alternative Home Heating System Is Right for You?
The best heating option for you and your residence depends on your home's existing infrastructure and whether you want to use an alternative heating source to supplement your primary system or replace it altogether.
For more information regarding the best furnace alternatives for your home, reach out to the specialists at EMCO Tech aka Emergency Maintenance Company today!