What should you know about Ductless Systems.
Choosing A Mini-Split For Your Home: What To Know About the Many Benefits? In recent years and for many reasons, ductless mini-splits are rising in popularity across the United States, especially in South Philadelphia. When the summer heat arrives and the humidity levels go up, having an extra source of air conditioning really helps. Whether you are building your home from scratch, seeking out alternatives to costly ductwork and AC repairs, or you are simply the type of person who likes to stay on the cutting edge of technology, ductless mini-splits offer perks for a variety of different home styles. Here why:
Heat Pump Service Life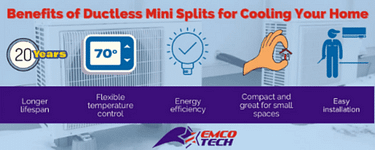 The average HVAC heat pump unit will start to show signs of age around its 10th anniversary, but many technicians will recommend replacing your unit long before the risk before failure is looming. Compared to traditional HVAC units, ductless mini-splits offer double the lifespan. Ductless mini-split systems can last a long time with timely preventive maintenance. That's a big relief!
Energy Efficiency in Ductless Minisplit Options
Traditional HVAC units rely on ducts to disperse heated air throughout your home. While the air flows through the ducts, heat and energy are lost. The result is a strain on your system, forcing it to work harder to maintain your desired temperature. Mini-splits don't utilize ducts to disperse air; thus they do a better job of conserving energy.
Compact Size and Flexible Temperature Control
Non-ducted units are much smaller than other AC or heat pump systems. Depending on the specific ductless mini-split option you choose, you will have the flexibility to elect several, or even all, of your rooms for installation. Each room will be set up with its own thermostat or remote so that you can only cool rooms when in use and save energy based on specific preferences.
Small spaces and older homes are challenging to install HVAC systems in for a variety of reasons. Older homes may have faulty ductwork that would cost you far more money in the long run as opposed to investing in a newer system. Small spaces, such as apartments and city homes, may not have the outdoor space for traditional outdoor condensers or expansive indoor duct installation.
Easy Ductless Heat Pump Installation in Philadelphia
Ductless Mini-split installation is a much easier process than other HVAC systems. Most mini-split systems are connected to an outdoor unit via a conduit connected to the in-house system through a 3-inch drilled hole. That's it! No expensive duct installation or multi-day projects.
Ductless Minisplit Systems are really good fit for compact South Philadelphia homes in zip codes – 19112, 19145, 19146, 19147, 19148
Learn more about mini split equipment:
Are Mini-Split Air Conditioners A Good Choice
To find out if a ductless mini-split system is right for your home, reach out to our team today! Or check out other products we offer. By taking the time to choose the right and reliable split system, you can ensure that your family stays comfortable all summer long. EMCO Tech Heating & Cooling Carrier ductless product specialists will help you choose reliable and efficient option!